Join Heart of the Valley by participating in this year's personal Snowshoe Shuffle. This year we are asking participants to register for the event, walk with your best friend, log miles and help us raise money for the animals at the shelter.
Use the link below to purchase a $10 registration ticket to participate in Snowshoe Shuffle and register for the online auction. The first 100 to register will receive an HOV Snowshoe Shuffle goodie bag.
There are 3 ways to participate in Snowshoe Shuffle:
Create a fundraiser on social media or through donating on our website. Share your fundraiser on social media or share our website donation page with friends and family to sponsor your walk.

Sharing photos of your personal snowshoe shuffle on social media with hashtag #HOVSNOWSHOESHUFFLE. 

Logging your miles!
You have the option to participate in as many or as few activities as you would like!
We will be tracking all incoming donations and social media tags.
Do I have to participate in every event?
No – You can choose to participate in any or all of the events.
Fundraising, online auction, log miles, photo contest
When can I pick up my goodie bag?
The first 100 participants who register on GiveSmart (excluding online auction registrants) will be able to pick up their goodie bag starting on Saturday, February 27th at Heart of the Valley located at 1549 E. Cameron Bridge Rd in Bozeman.
When can I start logging my miles, posting photos and creating a fundraiser?
Beginning on February 27th, participants can begin to share their personal Snowshoe Shuffle and promote their fundraiser.
How can I enter to win prizes?
Prizes will be given out for the participant who raises the most money, the best photo shared, and the most miles logged. Make sure to tag Heart of the Valley on social media so we can include you on our leaderboard. Use hashtag #HOVSNOWSHOESHUFFLE.
Create a fundraiser on Facebook or Instagram!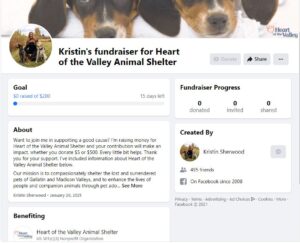 Don't have social media? Donate on our website!
Anyone who raises over $100
is entered to win a gift basket!
Use the hashtag
#HOVSNOWSHOESHUFFLE
on Facebook and Instagram to show your progress
and to enter our photo contest.
Winner will receive a gift basket!
Log your miles!
Whoever logs the most miles will win a gift basket!