Heart to Heart Animal Park
It's hard to lose a beloved animal, and even tougher to find ways to honor your fondest memories of your time together. Your community animal shelter has the answer to this dilemma: the Heart to Heart Animal Park, a unique and peaceful place to commemorate the strength of the bond between people and pets.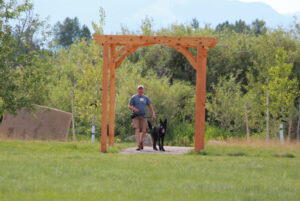 We have designed the park so that this space can help build a long-term revenue base for the shelter, helping pets for many years to come. You can support the establishment of the park, a collaboration between Heart of the Valley and Greenspace Landscaping. Or you can make a gift in honor of a special pet (or pet-lover) by purchasing a memorial plaque, bench or sculpture. You're invited to come and visit the Heart to Heart Animal Park at our "campus" on Cameron Bridge Road. Cross the creek by walking on the "rainbow bridge," see the fountain that honors two of our longest-term supporters, and find out more about how to make our dream a reality. For more information about memorializing a pet or special person, contact our development department at development@heartofthevalleyshelter.org or call:406.388-9399 ex 222.