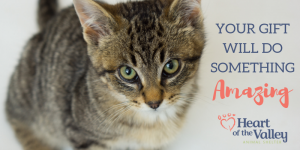 Your gift to the Best Friends Forever Endowment fund will keep on saving precious lives forever. The shelter's Board of Directors established the fund whose principal will remain intact while the fund's earnings will help to secure the shelter's core operations in perpetuity. We are proud that our endowment is over $4.4 million, however, we have a goal of $8 million in order to provide 2 months of operations and a consistent revenue stream for shelter, food, vaccinations, medicine, spay & neutering, etc. Last year alone, we provided services to nearly 3,700 animals!
Discover the tax benefits of endowment giving
Thanks to the Montana Endowment Tax Credit (METC) this opportunity offers you a credit of 40% of a qualifying planned gift's federal charitable deduction, up to a maximum of $10,000, per year, per individual.
Are you a business owner? Through METC Montana income taxpayers receives a reduction on taxes owed.  Is it really a tax credit and not a deduction? Yes! Business donors who make a gift to the Best Friends Forever Endowment earn a generous credit that directly reduces their state income tax liability. For businesses (S Corps, partnerships, LLCs and corporations), the credit is calculated at 20% of the value of the gift, up to a maximum of $10,000.
Don't delay, the METC is set to expire 12/31/19.
Please consult with your personal legal and/or tax advisors. But if you would like to learn more before doing so, contact Marla Caulk at 406-388-9399 ext. 203 or marla@heartofthevalleyshelter.org.