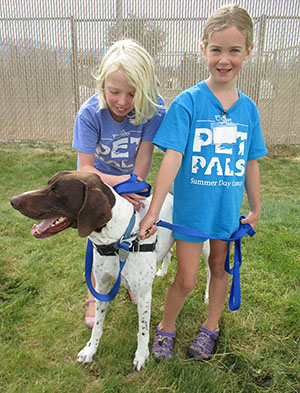 Our summer day camp is for children (6-12 years old) who love animals!  Campers learn the importance of compassionate animal care through time with animals, games, crafts, humane education lessons, and a wide variety of guest speakers. Each week children will have the opportunity to interact with a variety of animals. The camp is Monday-Friday with drop off between 8:30-9:00am and pick up between 3:00-3:30pm.
2019 Camp Registration is open!
Dates for 2019 Pet Pals Camp
Session 1: June 24th-28th
Session 2: July 1st-5th (Camp will be held on July 4th)
Session 3: July 8th-12th
Session 4: July 15th-19th
Session 5: July 22nd-26th
Session 6: July 29th-Aug. 2nd
Contact Kristin, Volunteer & Outreach Manager, with any questions at:  volunteer@heartofthevalleyshelter.org.
Pet Pals Camp FAQ's
[accordion align=""][pane title="Will I be able to sign my child up for multiple weeks of camp?"]
Because we want to ensure as many children as possible are able to attend camp we are not allowing for multiple week sign ups at this time. If you are interested in signing your child up for multiple weeks please email, volunteer@heartofthevalleyshelter.org, to be added to the wait-list. (Names will not be taken for second week wait-lists until after registration opens March 1st.) If camp spots are still available May 15th your child will be signed up for a second week.
[/pane][pane title="What is the cost of camp?"]
The cost for Pet Pals Camp is $230. A $100 deposit will be required at the time of registration with a payment plan available for the remainder of your camp fee. 
[/pane][pane title="Is each week different?"]
Each week of camp will have very similar activities and guest speakers.
[/pane][pane title="Will my camper get to walk dogs every day of camp?"]
Because the dog population at HOV can vary greatly from day to day we cannot guarantee that there will always be a dog that is appropriate for campers to walk. We do, however, ensure that campers have an opportunity to interact with shelter animals each day. This may take the form of a dog ambassador who greets the campers as they arrive and spends time in the camp room throughout the day, canine story time, cat cuddling, and dog walking when an appropriate animal is available. Our campers will also be able to interact with many of the animals who accompany our guest speakers.
[/pane][pane title="My camper is 10 or older, is this camp appropriate for them?"]
 Our camp is open to ages 6-12 and we do our best to provide engaging activities and lessons for our older campers. However, we have found that our campers are generally in the 6-10 range and therefore many of our activities are geared toward that group. We want to be inclusive of our older campers and when it is deemed appropriate by camp staff our older campers often take on a "helper" role for our camp counselors.
[/pane][pane title="How do I apply for a scholarship?"]
Contact Kristin Sherwood, Volunteer and Outreach Manager, at volunteer@heartofthevalleyshelter.org, to request a scholarship application. Requests for scholarship applications will be accepted after February 19th.
[/pane][pane title="What is the cancellation policy?"]
In the event that you would like to cancel your child's reservation and request a refund, requests will be approved based on the following schedule. If received:
March 1st—April 15th: A full refund will be given.
April 16th—Sunday before camp session starts: A full refund will be given if we are able to fill the spot. If we are unable to fill the spot a refund of $125 will be given.
If a refund is requested during the camper's scheduled week, the refund will be calculated in the following way: $25 x number of days student did not attend camp.
All refunds and cancellations must be submitted via the CampDoc registration portal.
Please expect a one week waiting period to receive a refund if you pay via your CampDoc portal. Please expect a three to four week waiting period to receive your refund check if you pay with a check or cash.
[/pane][pane title="What are the drop off and pick up times?"]
Campers can be dropped off between 8:30-9am, pickup is 3-3:30pm.
[/pane][pane title="Will lunch be provided to my camper?"]
Heart of the Valley will provide a morning snack to our campers but each camper must bring his or her own lunch every day. A refrigerator and microwave will be available if needed.
[/pane][/accordion]