Birthday Parties
Celebrate your birthday at Heart of the Valley!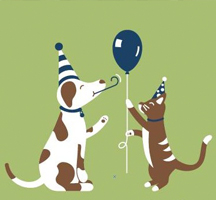 Children ages 5-12 are invited to celebrate their birthday at Heart of the Valley Animal Shelter! Your celebration will include the use of the shelter's spacious Community Room for a 3 hour block, allowing for 30 minutes set-up time as well as 30 minutes clean-up time. The party guests will experience a behind the scenes tour of the shelter and have opportunities to interact with shelter pets. The remaining time will be spent completing animal crafts of their choice, playing animal inspired games, as well as the details you choose to provide such as food and drink, or any other activities you would love to include in the celebration!
Some fun party options provided by HOV could include:
making and/or decorating dog biscuits
making cat toys
design pet I.D. tags
decorate pet bandanas
Printable Heart of the Valley Invitations*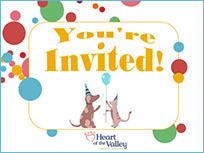 *Please email education@heartofthevalleyshelter.org if you are interested in personalized HOV invitations for your birthday party!
The birthday boy or girl will also receive an official Heart of the Valley Birthday T-shirt as well as the honor of naming an incoming stray shelter pet.

This Heart of the Valley Birthday Party Package is offered for $130.00.
Please fill out an application and return it to Heart of the Valley. For questions, or to submit your birthday party application, please contact the shelter at 388-9399 or by e-mailing education@heartofthevalleyshelter.org.
Begin here to submit an application online:
Birthday Party Info