Give Online Today
Give to Animal Care:
Click here to donate to directly benefit the animals in our care.
OR
Give to our Endowment Fund:
Click here to support our future by contributing to HOV's Best Friends Forever Endowment.

Call Us
Our number is 406-404-3070

Send by Mail
Biggie's Story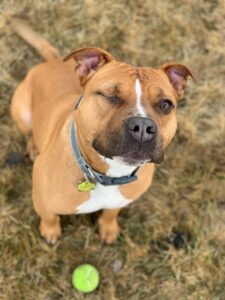 "He's going to be my dog!" That was Zoe's first thought when she saw Biggie on the Heart of the Valley website.
Biggie is a big, friendly boy who loves people! Before coming to HOV, his former family found him through a Craiglist ad. An old injury to his right eye never properly healed and they struggled to afford the medical care he desperately needed. They wanted him to have the best chance at the life he deserves so they brought him to HOV.
Due to a chronic infection, Biggie had lost the vision in his eye and was in constant pain. HOV's vet was able to successfully remove his eye, relieving his pain and giving him his charming signature wink.
When Zoe and her partner Connor met Biggie in person they absolutely fell in love! "He was so sweet with a great smile — such a good boy. The HOV staff told us that he'd already lived in several homes and I knew I wanted ours to be his last."
"Each day we get to see more of his personality as he gets more comfortable. He loves going for walks in our neighborhood and running around in the field behind our apartment building. He is super snuggly, loves to go for rides in the car, and when he gets really excited, he rears up like a horse and then gets the zoomies! One of my most favorite things about Biggs: he barks and wags his tail in his sleep."
Some animals like Biggie move from home to home, hoping the next one will be their last one. Thanks to your support, HOV can be there to help pets like Biggie and pet parents like Zoe and Connor find the right fit. Your gift ensures we can provide food, shelter, medical care, and a loving staff to care for animals who just need someone to give them a second chance at a zoomie-filled happy life.
We need your support now more than ever! Your gift today will provide second chances for pets like Biggie.
---
Heart of the Valley, is a private 501(c)(3) non-profit animal shelter located in Bozeman serving the Gallatin and Madison Valleys. Our service area includes Gallatin and Madison Counties including Bozeman, Belgrade, Manhattan, Three Forks, Big Sky, and West Yellowstone.
The mission of Heart of the Valley is to compassionately shelter the lost and surrendered pets of Gallatin and Madison Valleys, and to enhance the lives of people and companion animals through pet adoption and education.
Heart of the Valley is fortunate to have tremendous community support, every contribution we receive goes directly to critical expenses such as shelter, spay-neuter operations, food, and a caring staff for the hundreds of homeless animals at the shelter. Your donation will help to create a second chance for the lives of all of the animals here at Heart of the Valley Animal Shelter.
Please know that your philanthropy is deeply appreciated by all of us here at Heart of the Valley, and we are happy to count you among our valued community of supporters.
Heart of the Valley does not sell, rent, exchange or otherwise release information about its donors or customers.
Our Federal Tax ID Number 23-7375919