Donate Today

Our number is 1-406-404-3070
Call Us

Click here to download form
Send by Mail
It's been a busy summer at Heart of the Valley!  As your local animal welfare organization, we've already found new homes for nearly 1,400 homeless dogs and cats and are on our way to surpassing last year's adoption numbers! This impact is a direct result of this community's commitment to helping animals.  Without support from our donors, this work would not be possible.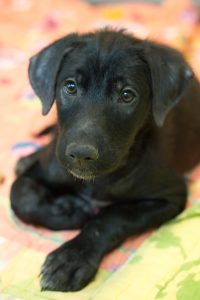 Each year, HOV partners with dozens of shelters and rescue groups throughout Montana to transfer hundreds of animals to Bozeman where we can find them new homes.  These animals come from high risk areas and we have the opportunity to give them the "happy tails" they deserve.
Betsy is one of those deserving babies.  She and her littermates came to HOV at only 7 weeks old and had already had a very rough start to life.  Besides being homeless, the puppies were diagnosed with Sarcoptic Mange which causes discomfort, intense itching and hair loss. The good news is that it's treatable and we immediately put them on medication to help alleviate their discomfort and put them on a path to recovery.  Despite her appearance, Betsy's sweet spirit shown through and her new parents John and Sara couldn't help but fall in love with her!
"We met Betsy while she was living with her HOV foster family. They are friends of ours, have been both fosters and adopters from HOV and had great things to say about the organization. We knew right away she was special. Sweet and timid at first, she got along well with her siblings and the foster's cat. We have a cat, Jezebel, and knew that introducing a new pet can be a challenge so this was a good sign!
As soon as she became available for adoption, we traveled from our home in Butte to Heart of the Valley to see her again. The staff at HOV was friendly and knowledgeable, happily answered questions and let us take her for a long walk to get to knew her better. But we already knew, she was the one for us!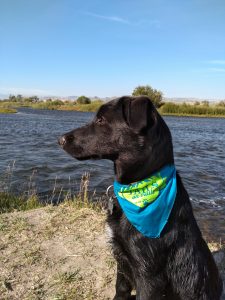 We were fully prepared for all that comes with having a puppy; accidents, chewing and learning how to get along with other animals. She is wonderful, sweet and the transition could not have gone better; she has done amazingly well!
Betsy was timid at first about venturing outside but now has her leash and is ready to go on a moment's notice.  She has been learning commands and even potty training has gone well, and when something is questionable she looks to us to see what is right.  
Betsy has been a wonderful addition to our home! We take her walking every day which gives her the chance to meet lots of new people and other animals.  She has been hiking, overnight backpacking, and disc golfing since her adoption in July.   Even Jezebel seems to like her –we've caught them snuggling a couple of times!"
Betsy's story began in a place where her future was uncertain. Now, she and her siblings have been adopted and are blossoming in their new homes, with loving families like John and Sara. Stories like Betsy's would not be possible without the support of people like you who love animals!   We hope you will consider making a contribution to help us continue to create more "happy tails" like Betsy's.
P.S. All of the animals at HOV are provided medical care, spay and neuter, microchip, vaccinations and behavior analysis.  Thanks to your support of HOV, they are getting everything they need to thrive and become the wonderful pets they were meant to be.