Donate Today

Our number is 1.406.388.9399
Call Us

Click here to download form
Send by Mail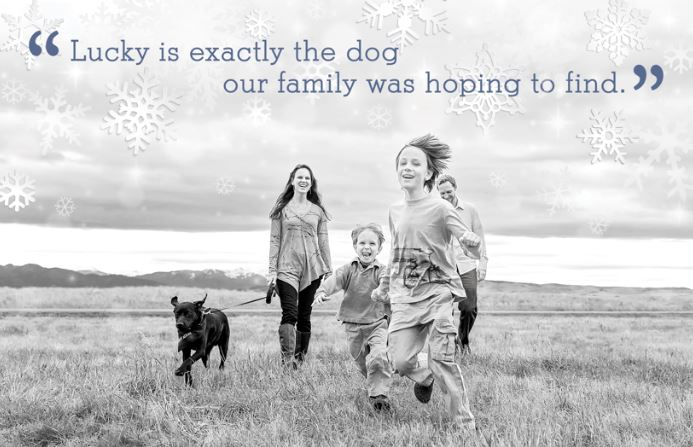 When we first met him, this sweet, gentle dog seemed anything but "Lucky".
Picked up as a stray, Lucky was in tough shape. He was limping and his face was swollen from a recent encounter with a porcupine. Our vet staff removed the quills, gave him medication to relieve his pain and kept him comfortable. An x-ray showed a surprising reason for his limp — bullet fragments lodged in his wrist from an old injury; there was no telling how long he had lived with the pain. Thanks to the generosity of a local orthopedic vet, the delicate surgery to remove the fragments was successful and Lucky started his recovery with lots of love from HOV volunteers and staff. But what he really needed was a family to help him heal.
At that same time, the shelter was full of children, learning about humane education through our Pet Pals Camp. One young camper was determined to adopt a shelter dog. While Pet Pals brought the Dennis family into the shelter, Lucky brought them back. After meeting him, this loving family opened their hearts and home, knowing that adoption was just the beginning of his road to recovery. For over two months, they made weekly trips to the shelter to have his splint and dressings changed, ensuring his wounds would heal properly. Today, Lucky has no problem keeping up with his active family!

Lucky is one of over 2,500 dogs and cats cared for at the shelter every year. As your leading regional animal shelter, Heart of the Valley relies on community support for nearly 80% of our budget. Thanks to friends like you, we never have to turn away an animal and we are able to provide lifesaving services to dogs and cats until they are able to go home. Your generosity also supports youth education, like Pet Pals, ensuring that the commitment to care for animals reaches the next generation.
This holiday season, please make your gift today to support your community animal shelter and give every dog and cat the chance to have a "Lucky" ending!

Thank you for being part of the HOV family!