HOV STAFF
Phil Rogers, Executive Director
Phil Rogers served as Executive Vice President of Universal Forest Products Corporation, where he worked with companies such as The Home Depot, Champion Homes and the Mead Corporation. Since moving to Bozeman from Michigan in 2004, he has been an adjunct teacher of management and marketing classes at Montana State University, has been faculty advisor for student clubs and a student athlete mentor. Rogers' non-profit experience is also extensive.  While living in Michigan, Rogers  served as a board member for Operation Smile and the Humane Society of West Michigan.
Since moving to Bozeman, he has been involved with the Worthy Student Scholarship, Bozeman School Foundation and Intermountain Opera Bozeman. He has also volunteered at Heart of the Valley for three years and is the voice of the kids'corral at Woofstock, the shelter's largest annual event.  Rogers resides in Bozeman with wife Susan Paglia and daughter Christine, who attends Bozeman High School.
Phil says "The love of animals is a great equalizer. Make the choice and be involved. Our shelter dogs and cats need all the help we/you can give. Heart of the Valley is where emotions run high and miracles happen."
Email Phil at phil@heartofthevalleyshelter.org, or call 388-9399, ext. 220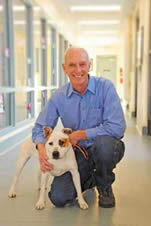 Kathryn Hohmann, Development Director
Kathryn grew up in Minnesota and has a Bachelor of Science degree in Animal Science from the University of Minnesota. She worked as a writer for the U.S. Fish and Wildlife Service, then managed publications for a division of Miller Publishing/ABC. Kathryn moved to Washington, D.C., where she worked for the Sierra Club as a communications professional and lobbyist. For more than a decade, she represented the national environmental organization before Congress and the national news media, concentrating on clean water, clean air and emergency management issues as they relate to our communities' health. After moving to Bozeman, Kathryn was on staff at the American Red Cross of Montana, traveling statewide for the disaster relief services as a fundraiser and media consultant. She loves reading and writing and is co-author of a textbook on climate change and emergency management (CRC Press), and an anthology on women and horses (Seal Press). Her writing has been featured in many national magazines and newspapers.
Kathryn has ridden horses for many years and competed her horse, Nip, in eventing and jumping in Montana. She's now training her Australian Shepherd, Cody, in agility and plans to compete with him.
Email Kathryn at kathryn@heartofthevalleyshelter.org, or call 388-9399, ext. 221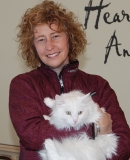 Maria Mulvaugh, Operations Director
Maria grew up in northern New York State and obtained a degree in geography from the State University of New York at Geneseo. With a lifelong love of travel, she lazed on the beaches of Mexico, studied abroad in Nepal, and taught ESL in Korea. It was a few defining experiences abroad that helped shape her love and devotion to animals. After returning to the states she relocated to Leadville, CO where she started running sled dogs. This hobby quickly grew into a great passion and she moved to Alaska to pursue running sled dogs full time, working with some of the most accomplished long distance mushers. Maria left the world of dog sledding to work in animal welfare in Juneau, AK and became the Director of Operations at the Gastineau Humane Society. Later, she worked as the canine behaviorist for the Central Vermont Humane Society, before moving to Montana and eventually joining the team at Heart of the Valley as Operations Director.
Maria is a lover of animals big and small and spends her time with her son, Roan, and her two former sled dogs, Ladakh and Kobe, exploring the mountains and rivers of southwest Montana. Maria, having lived and worked in a number of places, is happy to have found a permanent home in Montana, and is proud to be raising her son as a Montanan.
Email Maria at maria@heartofthevalleyshelter.org, or call 388-9399, ext. 203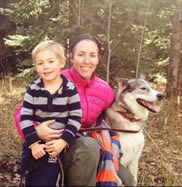 Dr. John Weyhrich, Staff Veterinarian
Dr. John Weyhrich received his veterinary degree at Colorado State University in 1991. He then received advanced training in laboratory animal medicine and pathology, which emphasized experimental surgery and transplantation. From 1993 to 1998, he served at Senior Veterinarian for a Primate Research Center in Seattle, ensuring the health of a colony of more than 1000 monkeys. Moving to Director of Animal Resources at the University of Montana, he was responsible for the oversight of the university's animal care program. Since leaving that position in 2004, he has focused on pet and animal care at veterinary clinics in Missoula. John has many years of service for community recreation organizations in Missoula and beyond, and is a champion bike racer. He is interested in skiing, world travel and popular culture.
Email John at vet@heartofthevalleyshelter.org, or call 388-9399, ext. 210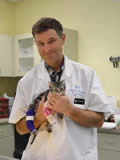 Ben Donoghue, Canine Behavior Consultant
On May 2, 1977, the soon to be bearded, Benjamin Paul Donoghue took his first breath.  In his younger years, growing up in the small New Hampshire town of Mason, Ben filled his days with exploring the outdoors capturing snakes, frogs, toads, and newts.  The arrivals of a brother(Sam), sister(Rebekah) springer spaniel(Addie) and a long haired white cat(Tuffy one) brought added fun to his outdoor adventures.  After ten years of small town livin the family moved to the big city (pop.100,000) of Manchester N.H.  After completing High School with O.K. grades Ben stayed in the Granite State to complete 5 years at the University of New Hampshire.  While attending this institute of higher education Ben frequented the famed White Mountains and the rocky shores of Maine all the while yearning for canine companionship.
In August of 2001 Ben hit the Long Trail of Vermont for reflection and to find direction.  The next three years of his life were filled with living and working outside with the Montana Conservation Corps and the Appalachian Mountain Club.  The last of these three years is what brought him to the Gallatin Valley and where he adopted his first dog Annay (Alaskan Husky) at the Gallatin Valley Humane Society (now Heart of the Valley Animal Shelter).  After a year or so of measly jobs to get by Ben applied to the organization where he found his beloved dog, for the often forgotten yet very important, position of Kennel Technician.  The benefits of helping animals and people in need has kept Ben hanging around.  "The feeling you get after watching the process of an animal arrive with no hope in their eyes, then begin to trust, and become confident, and then look into that adopters heart to find mutual understanding is priceless."
Ben is currently 5'11" 175lbs.
He resides with his wife Kristen Wolf, a son Ezekiel Wolf Donoghue, three dogs Oly, Jedi, and Raven and cat Syrius.
Email Ben at k9behavior@heartofthevalleyshelter.org , or call 388-9399, ext. 207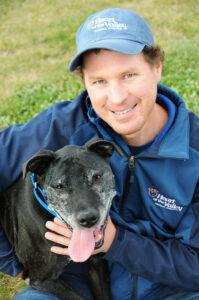 Amanda Davidson, Development Assistant
Amanda was born and raised in Owings, Maryland and at age 13, she moved with her family to Bozeman, Montana. She attended college in Missoula at the University of Montana, and graduated with a Bachelor of Arts degree in English. In an attempt to put her degree to good use, she joined Literacy AmeriCorps in Seattle after college. She lived in Seattle for six years and found herself gravitating towards her passion in life, animals. Along with many other animal-oriented jobs, she worked as a veterinary assistant for three years at a Seattle veterinary hospital.
In 2009, Amanda moved back to Bozeman. She is so happy to be working at Heart of the Valley and to be making a difference in the lives of the Gallatin and Madison valley's homeless animals. When she is not at work, Amanda enjoys acting in local theatre productions, singing, reading, writing, and hiking. She is proudly owned by a 10 year old miniature dachshund named Cleo.
Email Amanda at amanda@heartofthevalleyshelter.org, or call 388-9399, ext. 222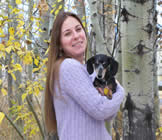 Beth Harper, Animal Care Manager
Beth enjoyed a childhood of living in many states and in Europe since her father was in the military. She attended college in Michigan and received a degree in Criminal Justice. After college Beth participated in a couple AmeriCorps programs: the National Civilian Community Corps where she served in the southeast, and the Montana Conservation Corps where she was based out of Great Falls. Beth moved to Montana in 2005 and considering this is the longest she has ever lived in one state, it is beginning to feel like home. Beth joined HOV in March 2008 and during that time has worked as a Kennel Technician, Canine Supervisor, and now Animal Care Manager.
Beth loves living in Bozeman and enjoys the opportunity to explore so close to home. She enjoys hiking, camping, rock climbing, skiing, cooking, and traveling. Beth's furry companion is Kaya, adopted from the Great Falls shelter and loved dearly.
Email Beth at beth@heartofthevalleyshelter.org, or call 388-9399, ext. 204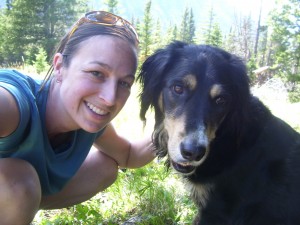 Emily Wallace, Volunteer & Education Manager
A proud Midwesterner, Emily ironically discovered her love for mountains while attending Luther College in Decorah, Iowa. Soon thereafter, she transferred to Montana State to pursue a degree in Ecology and Evolution. After graduation, Emily began a three-year journey to fulfill a rewarding series of seasonal positions. Most notably, Em spent two years in Seattle as an AmeriCorps volunteer working with a non-profit called EarthCorps, restoring land in the urban Puget Sound. Roles at EarthCorps include supervising a field crew, running weekly volunteer events, community outreach and environmental education. The desire to work as a field technician led Emily to volunteer in Ontario, Canada, helping the Bruce Peninsula Bird Observatory perform its annual fall migration survey and banding of migratory song birds. Em's most recent adventure was the move to Juneau, Alaska where she spent 6-months working as a naturalist leading day hikes and whale watching tours. She's happy to be back in Bozeman – this town has a way of drawing you back!
When not at HOV Emily is out exploring Bozeman's trail system and getting as much vitamin D as possible. She loves her dog Mango, whom she adopted from HOV on 10-11-12.
Email Emily at volunteer@heartofthevalleyshelter.org, or call 388-9399, ext. 223.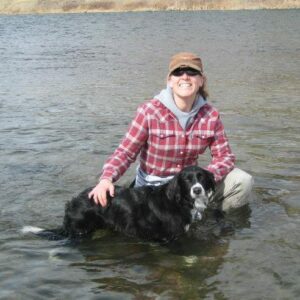 Kate Reedy, Education Coordinator
Kate was born and raised in the foothills of the Rocky Mountains near Denver, CO. As a young girl Kate would bring home every animal she found assuming they needed a new loving home. Even though her mother tried to stop the animals from coming in, she quickly fell in love with them as well, and several of them remained beloved family pets for many years. During high school Kate came to realize her passion for educating, working with children, and making a difference in other people's lives. At the age of 20 Kate moved to Bozeman to pursue her education at Montana State University in Elementary Education. Plans to return to Colorado changed as Kate fell in love with all that Bozeman has to offer. For over 12 years she has worked with different programs around Bozeman with children of all ages. Kate is currently a preschool teacher by morning, a mother of two, and now happy to call Heart of the Valley her third home. Along with her children Kate shares her household with Molly, a 1 year old cat, as well as Moose, a 2 year old Russian Tortoise.
Email Kate at education@heartofthevalleyshelter.org, or call 388-9399 ext 224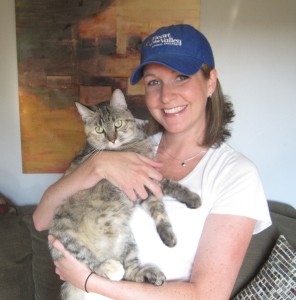 Molly Cayer, Feline Technician
Molly has been an animal lover since the day she was born! She grew up in New Hampshire always having at least three animals in her home. She attended a boarding high school in beautiful Maine, then off to college in New Brunswick, Canada, and to another college in Oklahoma. Molly didn't feel content where she was, so she decided she needed a change. She drove up to Montana to visit her brother, and like so many other Bozeman residents, Molly just couldn't leave! She was employed by Heart of the Valley and was so excited. "Finally, I can put my love of animals to work!" She worked at the old shelter, trying to make the best of it for the animals in those poor living conditions. "It's such a relief that now our dogs don't have to sleep outside in our freezing winter nights."
What Molly loves about Bozeman is the small town feel, breathtaking views, and all the wonderful hiking trails. She loves working at the shelter because "even though it can be emotionally difficult at times, it's such a great feeling to see a dog or a cat get adopted into a new loving home."
When not at work, Molly enjoys hiking, swimming, music, reading, biking, floating, and playing pool.
She resides in Bozeman with her best friend, Bart, a black lab she adopted from Heart of the Valley.
Megan Flamm, Customer Service
Megan was born and raised in Sheridan, Montana right in the heart of the Ruby Valley.  Growing up as an only child, horses, pigs, sheep, chickens, dogs, cats, fish and the occasional small fury creature were her companions.  After graduating from Sheridan High School, she moved to Bozeman to pursue a degree in History and Education.  After a short teaching stint in Tacoma Washington, Megan moved back to Bozeman where her heart has always been.  Lucky enough to get a job at Heart of the Valley in 2009, Megan spends her days with animals at work and her days off hiking the mountains in Madison and Gallatin County with her dog, Baylee.  In March of 2013, Megan welcomed her first baby; a little boy named Soren.  He is a 6th generation of the Thompson clan from in and around Virginia City Montana and Bozeman.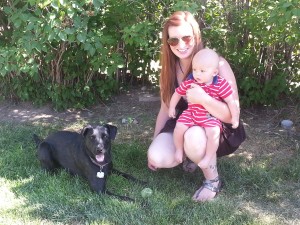 Diane Browand, Feline Technician
Diane was born in St Louis, Mo in 1960, but grew up in Dallas, TX until moving to Oregon in the early 1980's.  While in Oregon, Diane worked in the high tech business until moving to Montana in 2000.  She finally found the career position that matched her personality at Heart of the Valley Shelter.  Diane has been with Heart of the Valley for approximately 2 years and loves working with the animals.  She especially enjoys helping the animals find loving and caring homes.  Please feel free to contact Diane to assist you in matching you to a pet to love and care for.

Lauren, Feline Technician
I am a native Montanan, born and raised in Bozeman and am the proud owner of three four-legged animals; Tiger a domestic shorthair 14 year old male cat, Jaxyn a 7 year old female Jack Russell Terrier, and Howie a 2 year old Chihuahua/Jack Russell Terrier mix.  When I am not busy working or taking care of my four-legged animals, I enjoy spending time with family/friends, camping, softball, floating, crafts, and relaxing.
I feel right at home at Heart of the Valley, and truly enjoy making a difference in the lives of the animals each and every day.

Kari Chiocchi,
Veterinary Technician  
Katie Voss,
Canine Technician
Angie Kenworthy,
Omni – Technician
Lisa Baker,
Veterinary Technician 
Christian Richins,
Canine Technician
Jordan Gilbert,
Kennel Technician
 Hans Glasmann,
Feline Technician
Carlie Peterson,
Omni – Technician
Blaine Lorkiewicz,
Kennel Supervisor
Tony Marcuzzo,
Behavior Assistant
Stacy Miller,
Canine Technician